The Best Behavioral Health Practice Management Software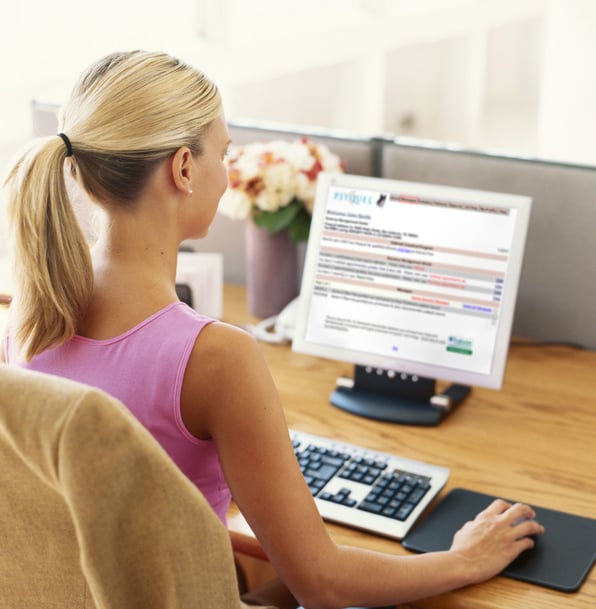 We Make it Easy to Run Your Mental Health Practice
For over two decades, Psyquel has offered the best mental health practice management software on the market. Whether you've got a large practice with multiple practitioners, or you're a solo therapist primarily offering teletherapy services, we've got you covered.
Patient care and coordination are essential for any behavioral healthcare provider. You need to be able to track your patients' progress, keep up with their appointments, and make sure they're getting the care they need.
Our HIPAA-compliant behavioral health management software that emphasizes Electronic Medical Records (EMRs) can effectively help you complete such operations. To expand your practice, join our other happy clients now.
What Is An Electronic Medical Record?
An electronic medical record (EMR) is a digital version of the paper charts and files that have been used to record patient information in healthcare for years.
EMRs usually include a patient's demographics, medical history, medications, lab results, immunizations, radiology images, and visit notes. Some also include family health history and social and behavioral information.
At Psyquel, we can customize our software to your specific needs. Our behavioral health EMR software can:
Compile all of your patient's records in one place
Make it easy to track progress and monitor treatment
Increase efficiency and reduce paper waste by automating tasks
Help you meet quality measures and improve outcomes
Our software is also web-based so that you can access it from anywhere with an internet connection. That means you can:
Check on your patients when you're away from the office
Make changes to appointments or medications from anywhere
Get real-time updates on your patients' progress
EMR Core Functions
Many EMR companies are available worldwide, but they often provide the same core functions. The following lists the basic functionalities you may need for your software:
PATIENT PORTAL



Patients can access and manage their information in this space. It includes the following:

Medical forms such as intake sheets and required office paperwork
Future appointment booking through an easy-to-use scheduling page

PROVIDER PORTAL



Our provider portal helps providers review patient data. Some of its features include:

Simple, straight-forward dashboard providers can use to interact with colleagues
History management view where professionals can access patient histories and other data
Scheduling function for providers' meetings and patient appointments

BILLING TOOLS



Behavioral health management software enables providers to facilitate financial processes for private pay/ self-pay patients like co-payments and remittances. We recommend automation for these components, especially in a larger office.

REPORTING FUNCTIONALITY



Reports are necessary for healthcare providers. Our software allows practitioners to be connected anywhere, anytime, to review and manage patient information to provide better ongoing care.
Is an EHR the same as an EMR?
EHRs, or electronic health records, and EMRs are not the same thing, but the two are often confused.
An EHR is a personal record containing details about a patient, including general information, diagnoses, medications, and treatment plans. EHRs are ideal for one disease or practice only. EHR software doesn't easily support third-party integrations and sharing between providers and clinics.
An EMR, on the other hand, is a population-based record. It's a system that multiple providers can use to share patient information. EMRs are better equipped to handle data from different sources and support third-party integrations.
Another significant distinction between the two is that EMR software allows users to extend how their patient data is processed and recorded. With paper records digitized, offices and clinicians have better health data management.
Behavioral health practitioners' needs vary, but our EMR software is equipped to handle several needs of behavioral health professionals.
What challenges do Electronic Medical Records address?
In 2021, the global EMR market reached an impressive $27 billion. Experts believe this figure will continue growing through 2027.
So, what makes this industry appealing to healthcare professionals? Behavioral health management software helps specialists face numerous challenges, including:
Spending too many hours entering patient data
Complicated data entry processes
Workflow disruptions
Lack of customer support from various touchpoints
No performance reports
Poor automation features
EMR software can help you address many of these concerns to enhance customer experiences and simplify the clinical process.
Since behavioral health is a sensitive field, you need an EMR compliant with the Health Insurance Portability and Accountability Act (HIPAA). Any reputable vendor will have no problem sharing their compliance certificate with you.
Advantages of an EMR System for Patients
While EMR systems offer many benefits for behavioral practitioners, they also have many advantages for patients. A few of the ways that EMR systems can improve the patient experience include:
Reduce Wait Times



With an EMR system, patients' medical records are readily available, which can help to reduce wait times.

EMR systems often come with features that can help streamline the check-in process, such as filling out forms electronically. This reduces the amount of time patients have to spend waiting in the reception area.

Improve Communication



An EMR system can help improve communication between patients and their care providers.

For example, some EMR systems allow patients to schedule appointments, view test results and message their care team directly from the system. This makes it easier for patients to promptly get the information they need.

Better Coordination Of Care



An EMR system can also help to coordinate care between different providers.

For example, if a patient sees multiple specialists, each provider can easily access the patient's medical records and see what tests have been done and what medications the patient is taking. This helps avoid duplication of services and ensures that everyone is on the same page.
Benefits of EMR Software for Behavioral Health Professionals
Behavioral health management software is beneficial for many reasons. It helps improve patient outcomes, automates time-consuming tasks, and increases operational efficiency.
A few advantages of using EMR software include:
Reduced Paperwork And Need To Store Physical Files



One of the main benefits of these systems is that they automate data entry, speeding up the process and reducing the chance of errors. This also eliminates the need for paper files, which can get lost or damaged.

EMR systems also come with a range of features that make managing patient records more accessible, such as tracking appointments and lab results.

While there is a cost associated with setting up and maintaining an EMR system, the long-term benefits are likely to outweigh the initial investment.

Improved Patient Outcomes



Unlike paper records, EMRs provide a complete picture of patients' health, including their medical history, medications, allergies, and lab results.

This information is vital for behavioral practitioners, who use it to make more informed decisions about diagnosis and treatment plans. In addition, EMRs allow practitioners to easily share patient information with other members of the care team, which can help to ensure that everyone is on the same page.

A More Efficient Way To Manage Your Time



EMR systems automate essential tasks for running a behavioral practice, freeing up your time to focus on seeing patients and providing them with the best possible care. In addition, EMR systems often come with built-in reporting features that can help you track your progress and identify areas for improvement.

Overall, EMR systems can help behavioral practitioners work more efficiently and improve the quality of care they provide to their patients.

Better Data Security



With a paper-based system, patient records can be easily lost or stolen. However, EMR systems come with many security features that can help protect patient data.

Psyquel's EMR system, for example, is compliant with the Health Insurance Portability and Accountability Act (HIPAA), which sets strict standards for the protection of patient data.

In addition, our EMR system uses encryption to protect patient information, and all data is backed up in a secure location. This makes it much easier to protect patient information and ensure it is only accessed by authorized personnel.
Frequently Asked Questions
Below are some of the most frequently asked questions about EMR systems for behavioral practitioners.
Q. Is a Behavioral Health Practice Management Software Secure?
Ans. Yes, a Behavioral Health Practice Management Software can be secure. When choosing a Behavioral Health Practice Management Software, it is essential to select a system compliant with the Health Insurance Portability and Accountability Act (HIPAA).
It would be best to also look for a system that encrypts patient data and offers secure backup.
Q. How Much Does a Behavioral Health Practice Management Software Cost?
Ans. The cost of a Behavioral Health Practice Management Software will vary depending on the features and functionality you need.
At Psyquel, we customize our EMR system to meet the specific needs of our clients. This allows us to offer a cost-effective solution tailored to your practice.
To learn more about our pricing, please get in touch with us.