The Difference Between EMR & EHR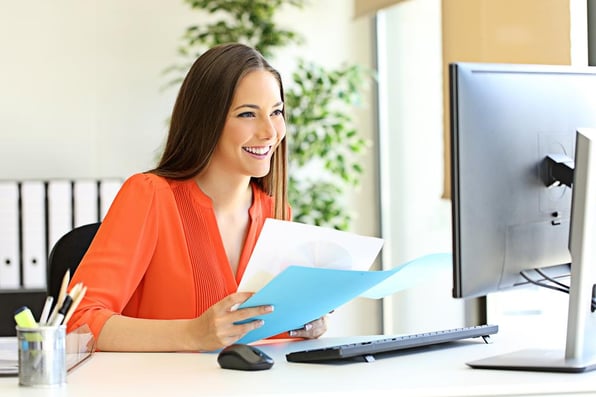 An electronic medical record (EMR) is a digital version of your patient's files. They are real-time records that enable specialists to access information quickly and securely. One of the core tenets of our EMR services is that we cater to therapists and mental health professionals to expedite and elevate the level of care for your patients.
Depending on the services you need, we can create a custom template for you. Here are some of the components we can include:
Unify a patient's medical history, including diagnoses, test results, and treatment plans.
Gain access to data-powered tools ideal for making sound medical decisions.
Automate workflows to minimize tedious paperwork.
In today's world, mental health professionals should provide patients with high-quality patient care to thrive. This process involves elevating their treatment experiences, from quick record access to accurate information to reliable prescriptions.
Our HIPAA-compliant mental health management software that focuses on Electronic Medical Records (EMRs) can help you fulfill such tasks seamlessly. Join our extensive list of satisfied clients now to grow your practice.
EMR Core Functions
Many EMR companies are available worldwide, but they often provide the same core functions. The following lists the basic functionalities you may need for your software:
Patient Portal



Patients can access and manage their information in this space. It includes the following:

Medical forms such as intake sheets and required office paperwork
Future appointment booking through an easy-to-use scheduling page.

Provider Portal



Our provider portal helps providers review patient data. Some of its features include:

An simple, straight-forward dashboard providers can use to interact with colleagues
History management view where professionals can access patient histories and other data
Scheduling function for providers' meetings and patient appointments

Billing Tools



Mental health management software enables providers to facilitate financial processes for private pay/ self-pay patients like co-payments and remittances. We recommend automation for these components, especially in a larger office.

Report Functionality



Reports are necessary for healthcare providers. Our software allows practitioners to be connected anywhere, anytime to review and manage patient information to provide better ongoing care.
Is An EHR The Same As An EMR?
No, an EHR (Electronic Health Record) is different from an Electronic Medical Record (EMR).
An EMR is a personal record containing details about a patient, including general information, diagnoses, medications, and treatment plans. EMRs are ideal for one disease or practice only. EMR software doesn't easily support third-party integrations and sharing between providers and clinics.
Depending on your needs, EHR software may be more functional than EMR software because it provides a wider look at a patient's total health. It also enables sharing between healthcare professionals, facilities, and providers more easily. This software works like a passport that unifies treatment solutions.
Another crucial difference between the two is that EMR software enables users to expand how their patient's data is recorded and used. By digitizing paper records, offices and clinics have greater control over health data.
What Challenges Do Electronic Medical Records Address?
In 2021, the global EMR market reached an impressive $27 billion. Experts believe this figure will continue growing through 2027.
So, what makes this industry appealing to healthcare professionals? Mental health management software helps specialists face numerous challenges including:
Spending too many hours entering patient data that may or not be related to patient results
The complicated data entry process
Workflow disruptions
Lack of customer support from various touchpoints
No performance reports
Poor automation features
EMR software can help you address many of these concerns to enhance customer experiences and simplify the clinical process.
Benefits Of EMR For Providers
Comprehensive Patient View
EMRs provide mental health professionals with a holistic view of their patients' long-term mental health. With EMRs, these specialists can track diagnoses, medication, and treatments.
Enhanced Security
As a healthcare professional, it's crucial to protect patient records. One of the benefits of using EMR software is assigning various access restrictions for different users. With the right mental health management software in use, you can ensure your practice is HIPAA-compliant and that you provide patients with the latest security tools.
Boost Revenue
EMR software can enhance profits simply by saving time at each patient visit. By using EMR software you can adjust your schedule to meet more patients in a day.
Cost Savings
Digital records can drastically lessen administrative costs, including chart storage space, transcriptions, and claims management. Additionally, with EMR software, your team can reduce the coordination time among different departments.
Unmatched Customization
No two practices are exactly alike because there's no one-size-fits-all solution for patients' needs. Whether you're a solo practitioner or are part of a therapy group, EMR software can fine-tune your processes. At Psyquel, no project is ever too big or small for our team.
Minimize Errors
EMR software providers observe standard documentation practices that drastically reduce human error. With paperless strategies, illegible handwriting no longer poses a problem for coding and billing staff.
Back-Office Support
At Psyquel, we offer a standout service that few providers do: world-class back-office support. If you run a mental health practice and cannot oversee benefits, billing, and claims, we can help you manage these activities. We have a full-service, back-office support plan ideal for practices of all sizes. Get in touch with us now to spend less time on tedious tasks and more time working with patients.
Benefits Of EMR Software For Patients
Improved Care Coordination
Instead of having patients carry their physical records across various practices and facilities, EMRs store their details. Through EMR, patients can request all the services they need under one roof in one single visit, removing the need for time-consuming interactions or miscommunication.
Insurance Integration
Through our service, your patients can connect their policies, and receive compensation. They can also use this feature to check available benefits.
Receive Reminders
Should your patients opt to receive reminders, we can help them set prompts for appointments, bills, checkups, and more. They won't need to wait by the phone for your call, since the reminders will be handled via email and SMS.
No Physical Forms Required
With our patient portal, patients can fill out everything required online rather than come into an office to fill out physical paperwork. This way, they won't have to stay at the office longer than necessary.
FREQUENTLY ASKED QUESTIONS
Below are some of the most frequent questions our clients ask before signing up with Psyquel.
Q. How Much Does Mental Health Practice Management Software Cost?
Ans. Mental health practice management software offers a wide scope of services, from provider dashboards to patient portals to billing tools. At Psyquel, we entertain all needs for solo practitioners and therapist groups. Your needs will directly affect the cost of your software.
Q. Are EMRs Secure?
Ans. Yes, they are. In most cases, EMR software uses encryption and powerful password systems that make them difficult to access. They provide mental health professionals with cost-effective ways to secure patient data.
For over two decades, we have provided the mental healthcare industry with the best practice management software in the market. We now offer world-class EMR services specifically designed for mental health professionals. Our goal is to simplify your work so you can boost revenues, improve customer experiences, and grow your practice. Request a demo now to discover the ideal software for your clinic.